We have over 20 years of industry experience designing websites that deliver the highest impact.
In today's business landscape, a strong and well-considered online presence should be a top priority for any organisation looking to improve its market position and future-proof its business. Whether you're aiming to create a revenue-generating e-commerce website or a lead-generating destination, the focus should be on creating a website experience that is tailored to your audience.
It's crucial that visitors to your website are not only impressed with its appearance, but that they can easily navigate to where they want to go. At our company, we design and develop websites with the user in mind, focusing on creating an experience that is geared towards converting visitors into customers.
For any website design project to be successful, it's important to capture the attention of your customers within the first 30 seconds of them landing on your homepage. This initial impression is key to keeping visitors engaged and interested in what your business has to offer.
Mobile Friendly Website Design
Beautiful eye catching bespoke website design that works on all devices.
A higher percentage of people view websites from their mobile device, and you need a website that offers visitors the best possible experience whatever screen size they are viewing from. Reach more prospective customers with a website design that works on all devices, including smartphones, tablets, laptops, and desktops.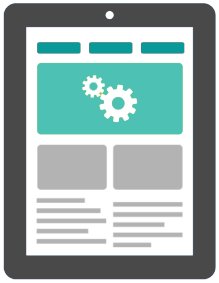 Stunning Websites Built For Growing Your Business
Having a well-designed website can significantly increase the amount of trust that a visitor has in your business. This trust can, in turn, increase your enquiries, repeat visitors, and sales. On the other hand, bad design can turn potential customers away in search of a website they have more confidence in. The design of your website can impact the entire user experience and be the difference between a great user experience and a poor one.
From website navigation to individual page layout, the interaction between visitors and your website needs to be a smooth and seamless process. This is known as user experience (UX), which refers to the overall impression your website leaves on visitors.
At our company, we understand the importance of good UX, user interface, and user interaction. We design websites that prioritize fast load times, present content that makes sense to the visitor, use graphics to establish priorities, create clear paths for visitors to follow, and utilize logical, intuitive controls.
As web design experts, we create stunning websites that are built for growing your business, increasing visibility, and encouraging engagement. We stay up-to-date with the latest technologies and trends, ensuring that our customers are always at the cutting edge of their respective industries.
Get your website up and running quickly with our fast turnaround times. In most cases, we can design and launch websites within 30 days or less. Our web design team is dedicated to helping you succeed in the online market, and we'll work efficiently to get you there in no time.
We don't overcharge for websites and are completely transparent qith our prices from the start. We'll help to work within your budget and to deleiver a website which matches your needs.
Your Online Strategy Depends On It
We build websites with conversions as the priorty end-goal. Once your website is optimized for conversions, our digital marketing services are more likely to produce results.
Rocket Fueled For Success
All of our website design services include:
Whatever the device, we make sure your small business website design will automatically adjust to best fit the size of the screen.
Knowing your website visitors behavior's and patterns is fundamental to your online growth. All our websites come with Google analytics integrated as standard.
We specialise in creating custom website designs that are tailored to match your unique brand and identity.
If you are currently using social media for your business, we can integrate these with your website. If not, we can help you set them up too.
Every website package comes with a content management system (CMS) which gives you complete control of your website to edit images, text or even add new pages if your wish.
We provide free website support for the first month on all website packages to ensure you understand how the CMS works, add new pages or edit content.
We supply high quality images related to your business sector to bring life to your website.
If you are currently using social media for your business, we can integrate these with your website. If not, we can help you set them up too.
Frequently Asked Questions
How will you develop a website that fits my brand?
We will assess your needs and preferences by looking at your existing company branding and provide you with a website questionnaire. This is where you will be able to describe the type of website you want. You will also be able to provide us with examples of websites you like. We will use this information, and our own creativity, to build a website that fits with your brand.
How long does it take to build a website?
Depending on the complexity and functionality required, it normally takes us 7-14 days to complete a website once we have everything that we need to begin the website design & development process.
Will I be able to change the design of the website if I don't like it?
Once the site is developed, we will send you a link to our development server where you can see a working version of the site. You will be able to compile a list of edits and we will make them for you. We ensure you are completely satisfied with your website before we put it live.
Who will carry out maintenance and updates on my website?
We also provide a website maintenance service. You can use us on an ad-hoc basis or have the benefit of one of our website maintenance plans. Website maintenance plans include unlimited updates to your website, plugin and security updates, routine backups, and more. For more information on this, please contact us.
Now we are waiting for your challenge!
Contact us today to get started with your project.